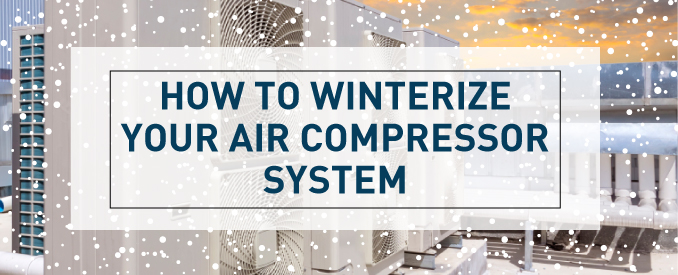 Determine the needs of compressed air functions – When selecting an air compressor system, it's crucial to be familiar with the specific needs of every possible use. For example, a compressor shouldn't be operated without explicit knowledge of how much moisture can be permitted versus how much moisture must be eliminated for a given application. Compressed air that might seem sufficiently dry for one function could end up causing moisture damage elsewhere; it all varies. After all, even the hottest and driest spots on the planet have moisture in the air. No matter what applications it's intended to handle, a compressed air system always contains some level of moisture.
When it comes to air compression, the most practical way to determine dryness is to specify a needed dew point. The level that would be suitable for your work could be much different from what the next building needs; that is why so many dryers are being made with different dew-point setting levels. No one, however, should ever set a dew point level at a lower degree than what is specified for a given function. Not only is that representative of poor engineering, it could also lead to expensive repairs and soaring operational costs.
Familiarize yourself with the temperatures – In order to find out whether sufficient levels of dryness will be maintained with compressed air, it's important to know where the air is going and the temperature at which it functions. For instance, in an industrial setting with an average temperature of 70 degrees or more, the dew point could possibly be as low as 20 degrees and still pass muster.
Winter Versus Summer Dew Point Requirements
In contrast to summertime, when dew point levels don't need to be very low, winter months require a lower dew point. With the coldest months of the year come different requirements for the cooling medium, which in some settings could be a determining factor in the size of the system required, since the compressor would need to handle and adjust to temperatures of both extremes. Furthermore, a compressor that works sufficiently during daytime temperatures might prove insufficient after dusk.
At refineries and industrial plants that process chemicals, air is sent from one point to another with lines that go both inside and outside of the facility. In these kinds of plants, the system handles two differing temperatures simultaneously with the same equipment.
Generally, a compressed air system should have its dew point set at least 20 degrees below the lowest expected temperature.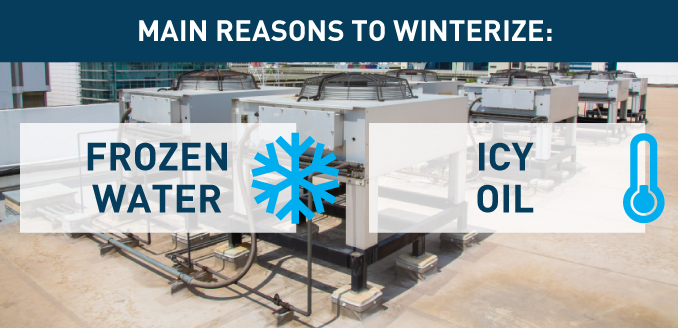 The Main Reasons to Winterize
The performance of an air compressor can be heavily impacted by its position within a surrounding environment. Depending on the weather patterns of a given area, actions need to be taken on either a quarterly or biannual basis. After all, the functionality of an air compressor is ultimately affected by the rise and fall of heat levels.
Frozen water
– Of all the issues that tend to arise when temperatures drop below freezing, one of the most troubling has to do with water. Therefore, it is essential to do timely assessments of each and every spot where liquid could be isolated, and to identify any possible areas where leaks might occur.
Icy oil
– Another crucial aspect of air compressor maintenance is oil temperature, which needs to be monitored and regulated. Otherwise, the oil could drop to a coldness level that renders it unable to lubricate or seal the machinery. Icy oil can also cause a compressor to malfunction or stop working altogether. For maximum reliability, oil must be kept within a temperature range that never veers toward hot or cold extremes. Trouble is, oil temperatures are tough to correctly regulate on air compressors with low duty cycles, which are often vulnerable to numerous problems, such as oil and water getting into the wrong places.
With a working knowledge of the key steps involved in managing temperatures, you could likely handle many of the basic tasks of servicing your air compressor system. The thing to bear in mind is that air compressors differ in their maintenance and repair needs, and you're unlikely to find all the answers for your system in some generalized, one-two-three instruction manual. By following advice that was initially given with another model in mind, you could actually end up causing more damage to your machine, which makes it crucial to understand the specifics of your model before you attempt air compressor repairs or system upgrades.
As you set about the process of winterizing your air compressor, consider the following questions. What are the issues that concern you most as a system owner or operator? Are there things pertaining to your system's exterior that need to be taken into consideration? How many hours per day is your unit in operation? The answers that you give to these questions will help you better understand your needs when it comes to air compressor servicing, repairs and maintenance. For instance, you might not have as many issues if you run your system around the clock, seven days a week; whereas operating the system only on weekdays could lead to problems on a given Monday if climate issues arise.
The Benefits of Air Compressor Optimization
n the world of mass production, it's crucial for manufacturers to maximize efficiency at every level. With all the money that goes into product assembly, advertising, overhead costs, and the training and payroll of talent, every dollar must be spent wisely to ensure that the highest possible profits are made for all the parties involved.
Mass production is a complicated business with many different costs involved, some of which can get overlooked at times among the bigger picture. Chief among them are the costs that tend to arise from poorly maintained air compressor systems. As it stands, the costs associated with compressed air account for nearly half – 40 percent – of a factory's power expenses. At the same time, energy usage accounts for roughly four-fifths – 80 percent – of the costs associated with the installation of air compressors.
When air compressor systems are optimized, companies reap the following benefits:
Savings on energy bills
Reduced likelihood of moisture damage on products
Reduced overhead and repair costs
Improved profit margins
Reduced CO2 emissions
Facilities that are more environmentally friendly
In winter as well as summer, the financial and environmental benefits are numerous when more consideration is given to compressed air optimization.